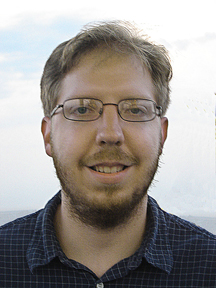 Eric M. Leibensperger
Department of Physics and Astronomy
Ithaca College

953 Danby Road
Center for Natural Sciences 265
Ithaca, NY 14850
p: 607-274-5722
eleibensperger [at] ithaca.edu
Summer 2021 Office (Zoom) Hours:
By appointment only
E-mail during social distancing or join via links on Sakai
News:
Collaboration with Huanxin Zhang and Shiliang Wu published in Atmospheric Environment.
Collaboration with Lee Murray et al. submitted to Geoscientific Model Developoment.
Collaboration with SUNY colleagues on the Common Problem Project submitted to the Journal of the Scholarship of Teaching and Learning.
I have moved to the Department of Physics and Astronomy at Ithaca College as of Fall 2020!
Data buoys deployed for 2020. View near real time data HERE.
Awarded the SUNY Chancellor's Award for Excellence in Scholarship and Creative Activities.
Book chapter with Sandra Penny et al. published in Interdisciplinary Teaching About Earth and the Environment for a Sustainable Future.
Selected as a "Featured Scholar" at the SUNY Plattsburgh Celebration of Scholarship.
Research by undergraduate Alexandria Elliott highlighted in the Glens Falls Post Star: Here.
Collaboration with Jingqiu Mao et al. published in ACP [PDF].
Collaboration with Lu Shen published in GRL [PDF].
Collaboration with Dan Cusworth published in ACP [PDF.
Lake Champlain Anglers' Temperature Database (LCATdb), created with computer science major Joe Judge, gets a soft roll out.
Teaching module, "Regulating Carbon Emissions", created with Curt Gervich (Plattsburgh), Robyn Smyth and Gautam Sethi (Bard), Sandra Penny (Sage), and Pinar Batur (Vassar) goes live on Science Education Resources Center InTeGrate website: Available here.
Invited presentation with Mark Malchoff to Lake Champlain United fishing group [PDF]
Lake Champlain data buoy highlighed in Environmental Monitor.